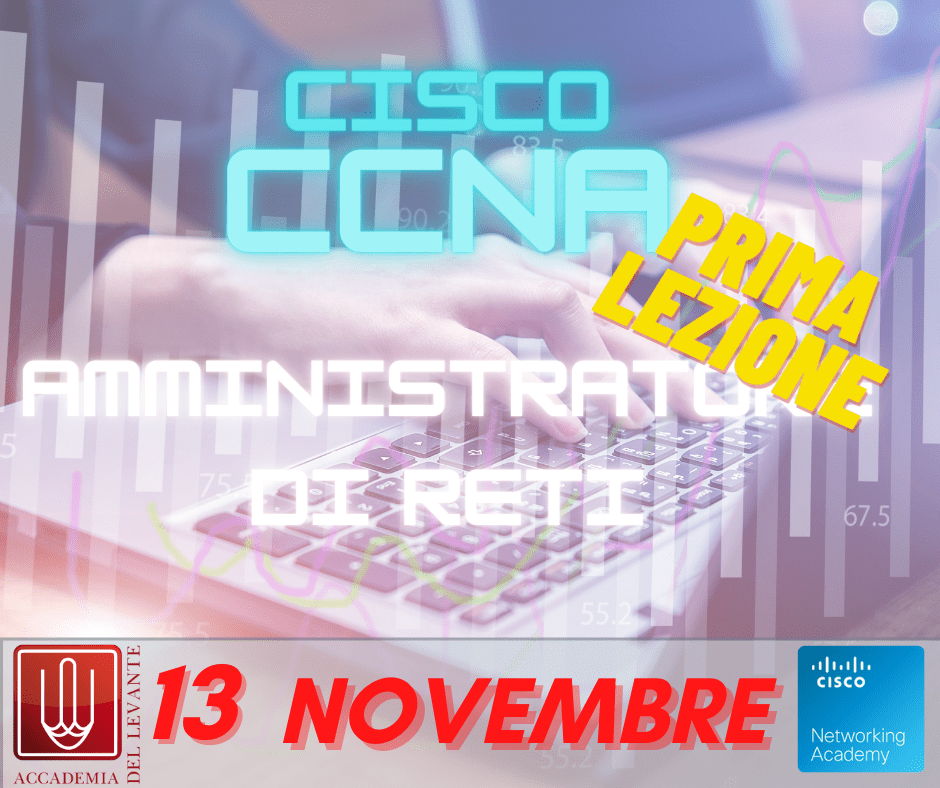 04 Nov 2021
Corso CCNA prima lezione
Dopo il primo incontro tecnico, tutto è pronto per la prima lezione del Corso CCNA, che si terrà il 13/11/2021.
Se sei interessato contattaci, ultimi posti disponibili in presenza!
Questo corso ti permette di diventare un professionista capace di operare in autonomia su router e switch Cisco e apparati all-in-one wireless, ottenendo le certificazioni Cisco Academy CCNA, riconosciute in tutto il mondo, con la possibilità di conseguire anche la certificazione CompTIA Network+. Docenti certificati e lezioni frontali, fruibili anche in e-learning, con numerose ore di pratica laboratoriale su reali apparati Cisco e possibilità di interagire con il docente e i tuoi compagni di corso tramite un forum online.
Profilo d'uscita
Tecnico, progettista, sistemista ed amministratore esperto di reti, trasversale alle varie tecnologie e certificabile Cisco CCNA e CompTIA Network+, in grado di operare sia come consulente interno o libero professionista, sia come specialista di networking, su sistemi informatici di media-grande complessità (LAN e WAN), in aziende di qualunque tipo (sia ICT, che di altri servizi), anche multi-sede.
Attestati Finali
il conseguimento degli attestati Cisco Academy è subordinato al superamento dei relativi esami con soglie di punteggio prefissate.
Attestato di frequenza e partecipazione Accademia del Levante
1) Cisco Academy Certificate of Course Completion "CCNA Introduction To Networks"
2) Cisco Academy Certificate of Course Completion "CCNA Switching, Routing, and Wireless Essentials"
3) Cisco Academy Certificate of Course Completion "CCNA Enterprise Networking, Security, and Automation"
Maggiori dettagli qui.