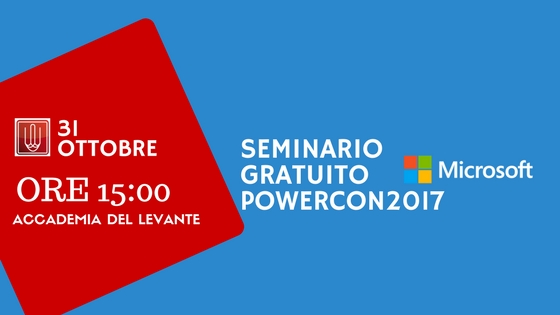 10 Ott 2017
Dopo circa 1 anno, grazie al grande interesse manifestato durante l'evento del 21 settembre 2016, Accademia del Levante, in collaborazione con la Community ICT Power, ospiterà il prossimo 31 ottobre 2017, a partire dalle ore 15:00, un seminario completamente gratuito che illustrerà le principali novità e funzionalità di Windows 10 Fall Creators Update e Windows Server 2016, affrontando anche un tema importante come la gestione dei certificati. Inoltre, andremo ad esplorare la continua evoluzione del servizio cloud Microsoft Azure per fare sempre più attività ottimizzando al meglio le risorse da utilizzare.
Con questi eventi si conferma l'importanza dei nuovi sistemi operativi di Microsoft visti come delle piattaforme integrate e molto più "aperte" rispetto al passato.
Una giornata particolare e interessante aperta a tutti coloro che hanno sete di conoscenza.
Per tutti coloro che saranno presenti all'evento ci sarà la possibilità di ricevere un attestato di partecipazione e dei simpatici gadget a sorpresa.
AGENDA
15:00 – 15:15
Registrazione all'evento
15:15 – 15:30
Apertura e saluti
15:30 – 16:30
Fall in "Love" with Windows 10

(Vito Macina e Gianluca Nanoia, Microsoft MVP)

16:30 – 16:45
Break
16:45 – 17:45
La gestione dei certificati digitali in Windows 10 e Windows Server 2016

(Nicola Ferrini, Microsoft Regional Director)

17:45 – 18:45
Microsoft Azure to do more

(Giulio Mallardi, Solution Architect & Nicola Ferrini, Microsoft Regional Director)

18:45 – 19:00
Conclusioni e domande
ISCRIZIONE
L'iscrizione al seminario è assolutamente gratuita. La disponibilità di posti in aula è limitata. Le richieste di partecipazione saranno accettate in base all'ordine di iscrizione.